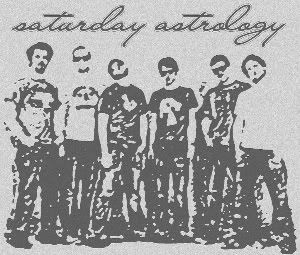 "This demo is our OLD $HIT. If you'd like, please go ahead and download our NEW $HIT for free at…www.SaturdayAstrology.com" – that was the cover art copy for the free CD we received before the band came on stage. I was a little wary about what the night would entail, only to find myself pleasantly surprised (goes to show that you should never judge a CD by its cover, especially when it's free!).
The name is Saturday Astrology – a sexy six-pack representing the city of New York. They brought on a super energized show full of sweat (literally), funk and rock-your-body beats at Mercury Lounge in the Lower East Side. It was almost a full house of music-lovers of all ages. They covered most of their "old $hit," blended in a couple of their "new $hit," and segwayed into a Ne-Yo cover during one of them, all of which were equally well-received.
The music will make you want to move, dance and just do something – even if you don't know the song. The drums are my personal favorite – he set such a great tone for every song right from the start. The lead vocal worked hard to entertain us all. I think he was drenched in sweat after a song and half, trying to cover all corners of the stage (half the time I attempted to decipher what he was singing).
Do check them out when they play in your neighborhood venue. It's a guaranteed fun time. I mean, not every band offers up somebody's apartment for an after party. I wonder if that 60-year old man next to me crashed the festivities.
Below are a few clips from the show.For more information on Saturday Astrology, check them out on MySpace.