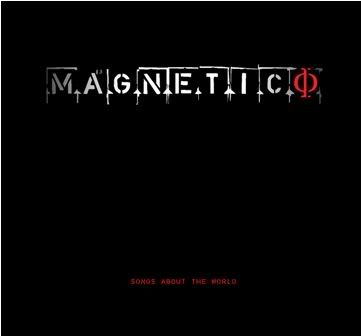 Last week, I got to catch a show, rather unexpectedly, at The Waterfront Theatre in Marina Del Rey. The venue was lofty and densely populated with people standing shoulder to shoulder with one another. It was also right by the water, a perfect place to fall in love—with music that is. On the bill was Danny Carey's (from Tool) side project Volto, Magnetico, and Nothing Personal.
All the bands put on an energetic and engaging set but I was intrigued by Magnetico, particularly frontman Rafael Moreira. In my opinion, he slyly upstaged Volto, not in an arrogant malicious way, but in a where-did-this-ninja-come-from way. Magnetico played 45 minutes of upbeat rock songs with the exception of a "Letter For A Friend" which could easily be this band's "Every Rose Has It's Thorn" type ballad.
Moreira was elegantly fierce on guitar and no wonder, he's been everywhere.  Did you ever watch the show Rock Star on CBS and the subsequent follow-up Rock Star Supernova? You know Rafael from the house band? Yup, it's the same guy.  He's also the touring guitarist for a bunch of big names like Christina Aguilera, P!nk, Paul Stanley (from Kiss), Stevie Wonder and others.
You've got to see this guy play in person especially now that he's playing his own music. He's incredible and the music is stellar as well. He's a talented songwriter and I hope that his talent takes him farther than it already has. Find him on Facebook or visit Magnetico Music.