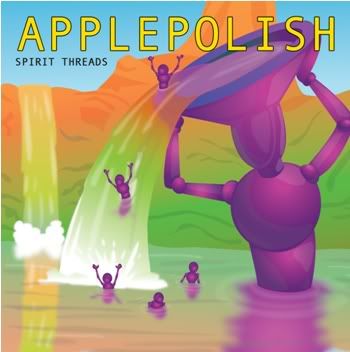 Tickling my indie sensibilities this week is Applepolish. No, Applepolish is not used for cleaning iPods (or iPads for that matter). Applepolish is evidence that all you need to start a band is two people and maybe a little recording know-how. Applepolish has already self-recorded and produced two demos and a cover album. Their latest release, Spirit Threads, displays their do-it-yourself work ethic and their creative flexibility.  If you get your hands on the album, listen to "John Q Public" and "Miss You" and you'll know what I'm talking about.
Overall, Spirit Thread is innovative and genre-fusing. They mix indie with electronic and throw in some pop/rock elements as well.  I wish that the mix accommodated the vocals better because the lyrics deserve more attention than they're getting. Especially since the lyrical content is strong. When the lyrical irony stands in stark contrast to the music, the result is compelling and intelligent. Listen to Spirit Threads on their website or on Facebook.
Get the album now on
.